A lost in appetite is my coping mechanism. For someone who enjoys cooking as much as I do, it is somewhat contradictory. The last long weekend of summer came and went opening up old wounds and slashing new ones. I retreated to my kitchen to cook and cook and cook in hopes of temporary relief. Relief did not come but I did end up with plenty of home cooked comfort food.
I finally came to the last bits of leftover from Montreal 24 relay catering. While it was convenient to have ready-to-eat breakfast and dinner everyday of the week, I grew tired of eating the same few things. I bet Little Brother shared my sentiments too. My cooking mojo fluctuated wildly from brilliant to absolutely inedible. Let me share with you my meal of comfort food that could have been so much more.
Congee Dinner
Congee with Cured Duck Gizzards, Dried Scallops, Bean Curd
Green Onion Pancakes
Pan-Seared Stuffed Green Peppers
I  started with the only successful dish on the dinner table, the congee. When I went to pick up my box of mooncakes, I also bought two packages of cured duck gizzards. Similar to other Chinese cured meats, the salty gizzards benefits from long hours of cooking to tenderize and draw out its deep flavour. I started by simmering gizzards in plenty of water while soaking the rice and dried scallops. After 45 minutes of simmering, I added the softened rice and scallops to the pot and simmer until the porridge turned thick and creamy. I added frozen bean curd and simmered until it broke down to small pieces for extra protein. The bean curd also made the congee rich and smooth. The congee was absolutely delicious even without a pinch of salt.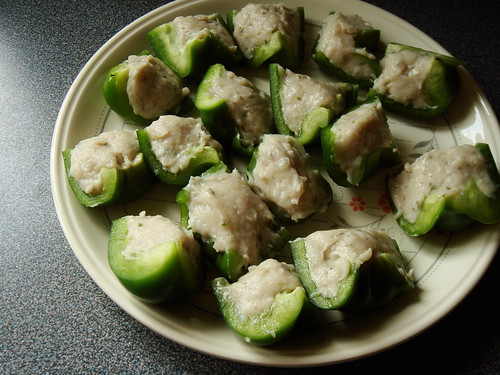 I've been making pan-seared stuffed green peppers since I was a teenager. The time-consuming part of stuffing individual pieces with prepared fish paste and carefully searing them to crispy golden nuggets are right up my alley. Mom always thought them to be too fussy and left them up to me. Last night, I managed to stuffed the peppers in record time. Unfortunately, I lost patience with searing. Most pieces barely had any caramelized crust and I did not even bother to make the braising black bean sauce. The stuffed peppers tasted anaemic and underwhelming.
Oh but that was not the worst. I rarely ever spit out food but my awful green onion pancakes received that dubious honour. First, they were terribly under-seasoned. I thought my idea to brush the inside with garlic sesame oil was pretty brilliant but the flavour barely came through. Instead, it was one big bite of heavy doughy half-cooked mess. The pancakes took forever to sear in the pan. They could probably use some time in the oven to make sure they were…not raw. Oh that was gross. Perhaps green onion pancake is the one dish that I should leave to professionals.
All in all, a disastrous end to Labour Day long weekend. In a way, it was oddly fitting. Life is heartbreakingly messy. I just want the last 11 months to be a nightmare that I can wake up from…someone please tell me that all the hurt, deception, and betrayal are not real. Alas, they are real and I have no choice but to soldier on. I am so tired.