I paid a short visit to Nashville over the Easter long weekend and just got back home yesterday. Needless to say, I haven't cooked or baked anything in what feels like an eternity. My dinner last night was rescued by homemade dumplings that I stashed away in the freezer. I debated briefly if I should defrost a container of ragu alla Bolognese but decided that I was not in the mood for pasta.
The primary purpose of my trip was training camp with my fellow speed skating teammates. Our team owner has a skate shop in Nashville and he took us to many of his favourite training locations including the abandoned Cornelia Fort Airport. I had a breakthrough with my concussion recovery last week and was well enough to participate in most of the training skates. I am happy to report that the exercising ceased to trigger concussion symptoms! I felt a little unwell from noisy restaurants and booming voice of the roller derby announcer but earplugs helped a lot. In between all the workouts, I managed to squeeze in some good eats around town.
The highlight of my dining weekend was a coveted reservation at The Catbird Seat. I will write more about that in my next post because there are so much I want to tell you. Today, I'll show you a bunch of casual meals I enjoyed in Nashville.
You can't visit Nashville without trying their famous hot chicken. Lucky for me, the skate shop is just a stone's throw from Bolton's Spicy Chicken & Fish, one of the hot chicken institution in town. A bit of research shows that the owner used to work at Prince's back in the day, another must-try place for hot chicken. I ordered a mild quarter leg plate with baked beans and mac & cheese. The dinner came with sweet pickles and the requisite sliced white bread. Truth in advertising! The tender chicken was spicy from skin to bone. Mild was perfect for me as my lips and tongue tingled from the heat. I thought the pickles would alleviate some of the spicy taste but no….somehow they made the awesome fried chicken even spicier. It was quite an experience.
Bolton's Spicy Chicken & Fish: 624 Main St, Nashville, TN 37206, United States
Just down the street from Bolton's is a new barbecue restaurant Edley's. Unlike many traditional barbecue restaurants, the decor is modern and comfortable. Sitting at the patio felt like I was dining at a hipster's interpretation of southern barbecue. I ordered a pulled pork plate with collard greens, cornbread, and Frito pie. The lightly toasted cornbread was excellent and I enjoyed the spicy collard greens. I had better pulled pork before but don't have much complaint about Edley's version. As for Frito pie, that was my first. It was a bag of Fritos topped with barbecue beans, pork, and shredded cheese. It tasted exactly as you would expect by combining those items together. Can't say I'm a fan but at least I popped my Frito pie cherry at last.
Edley's Bar-B-Cue: 908 Main Street, Nashville, TN 37206, United States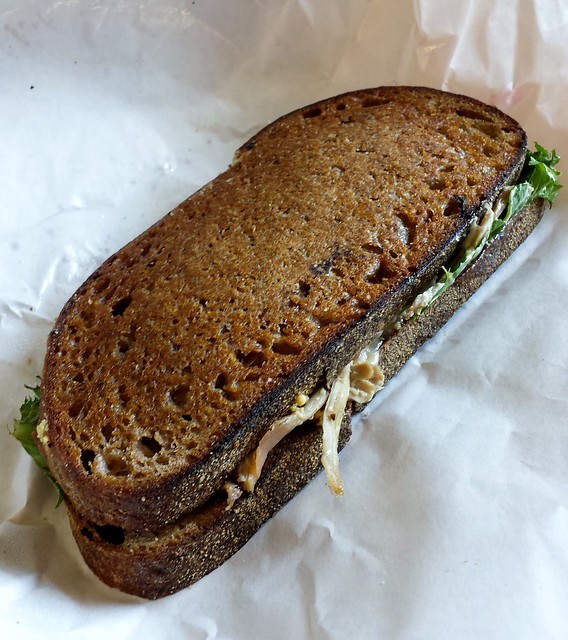 While you're in East Nashville, don't forget to stop by Bella for some amazing bread. Their breakfast bun is a brioche sweetened with raisins and almonds. Delicious when smeared with cream cheese. I ordered their Havana, TN pressed sandwich for lunch. Between two slices of desem whole wheat bread were pulled pork, Tenshootoe, gruyere, pickled turnip, mustard greens, and grainy mustard aioli. I love the mix of southern cuisine with French influence.
Bella Nashville Bakery: 1010 Fatherland St, Nashville, Tennessee 37206, United States
I never make a point of visiting restaurants featured in Diners, Drive-Ins, and Dives but host Guy Fieri was my training partner as I logged hours after mind numbing hours on the treadmill. After a training session in Brentwood, our team dropped by Athens Family Restaurant for brunch. I saw that kotopita was featured on The Food Network so that was what I ordered. Behind that exotic name was really familiar comfort food. It was chicken and vegetable encased in phyllo pastry. In other words, chicken pie served with tzatziki, parsley, and feta. The pastry was buttery and crispy. The filling was generous with big tender pieces of chicken. The restaurant was indeed very charming with friendly staff and Greek American menu selections.
Athens Family Restaurant: 2526 Franklin Pike, Nashville, TN 37204, United States
Our team watched a roller derby bout in downtown Nashville. Before the bout, we stopped by Merchants for dinner. Coincidentally, that was also where I had dinner last year before catching a Predators game in the Bridgestone Arena. Tourist trap, you say? Well, perhaps. But I love their bracing hot house made ginger beer. Last year I enjoyed the devilled eggs and delicate fried green tomato. This year I found my sweet tea pork loin with pimento grits, molasses green beans, bourbon jus also very enjoyable. Merchants may very well be a tourist trap but their southern influence cooking is lovely.
Merchants: 401 Broadway, Nashville, TN 37203, United States
Since I am on the subject of southern food, I have to say I am now a fan of fried sweet pickles and pimento cheese. I never knew fried sweet pickle chips can be so addictive especially with cold tall drink on the side! Crunchy sweet cucumber pickles under light crispy coating are perfect bar snacks. As for pimento cheese, I did not know that it pairs so well with lettuce, tomato, and rye bread. Now I do!
In our free time, a group of us drove to Historic Marathon Village to check out the galleries and boutiques, including the famous Antique Archaeology. The converted brick warehouses were also home to Garage Coffee Company and The Bang Candy. I ordered their signature Slingshot Iced Latte with vanilla cream, bourbon caramel, and sea salt. I am normally not fond of frou frou coffee drinks but it hit the spot on hot sunny afternoon. Next door at The Bang Candy was a huge selection of handmade marshmallows. I ordered one of each flavour with the intention to check out what other confectioners do. While I do like their unique flavours (cherry cola, peach basil, rose cardamom, maple bourbon bacon, chocolate chili), I found the taste muted and the texture a bit too spongy.
Garage Coffee Company: 1200 Clinton St, Nashville, TN 37203, United States
The Bang Candy: 1300 Clinton St #127, Nashville, TN 37203, United States
I will leave you with a shot inside Tootsie's Orchid Lounge. It was my last stop in Nashville after touring the Ryman Auditorium. After all, I was a tourist and it was only appropriate to have a drink at a Honky Tonk bar in weird afternoon hours when it was empty, right? I am so uncool.