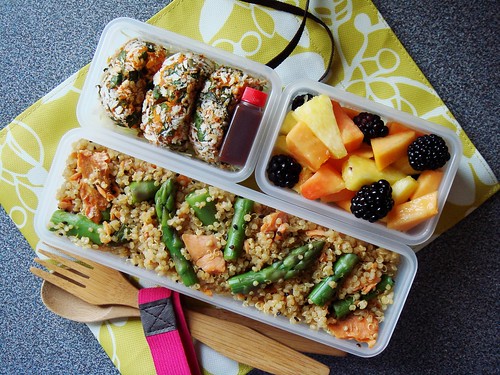 I started packing bento on a semi-regular basis because I wanted to enjoy nutritious homemade food on the go. The aesthetic of a well-made well-balanced bento obviously appeal to me but mainly it is my way of avoiding depressing fast food options when I am not eating at home. The weather is far from balmy here in Toronto but dry pavement means I have already started inline skating outdoor for over three weeks. When training wraps up, I am famish! Since I am not a fan of protein shakes, bento is one way for me to battle the post-training-munchies. This is the bento I packed today with a hint of spring.
Almost Springtime Bento
Asparagus Smoked Salmon Quinoa
Sweet Potato Pepita Croquettes
Fruit Salad of Pineapple, Papaya, & Blackberry
As usual, my bento is not a traditional rice-centric Japanese meal. What I pack reflects how I eat at home. Bento appeals to many people but the idea of learning to cook Japanese dishes may intimidate. There is no reason to limit yourself so. Make bento work for you!
When I plan for a bento, the thought process is very similar to meal planning. I want main, side(s), and dessert. My main course of Asparagus Smoked Salmon Quinoa is packed with nutrition. First, I cooked a cup of quinoa in dashi. While it simmered, I blanched 8 stalks of chopped asparagus for three minutes. I made a quick dressing using 1 tablespoon maple syrup, 2 tablespoons soy sauce, 1 tablespoon mirin, and 1/2 tablespoon sesame oil. The drained quinoa was tossed with asparagus, a can of hot smoked salmon, 2 tablespoons of toasted black sesame seeds, and the dressing. It was that simple yet so wholesome!
My side dish of Sweet Potato Pepita Croquette was also as simple as can be. I went fridge diving and found half a sweet potato in the crisper. I peeled and cut it into 1-inch pieces and microwaved on high for 3 minutes until tender. I mashed the sweet potato and mixed it with some chopped parsley and raw pepitas (pumpkin seeds). I seasoned the mixture with salt and shichimi toragashi. I roughly shaped it into two balls, about the size of a small plum, and coated them with panko. A few minutes in the frying pan gave the croquettes a bit of crunch and colour.
There are many ways to pack a bento but separation is key. I can use a large sandwich box and create compartments with lettuce leaves and foil cups. But that is too much trouble for my taste. Rather, I used my mix-and-match set of MUJI bento containers to have a different container for each course. I filled the large container tightly with quinoa salad, making sure to show pretty asparagus tips on the top. One of the small boxes was lined with shredded cabbage before I filled it with croquette halves. I packed a small bottle of tonkatsu dipping sauce too. The last container was filled with chopped pineapple, papaya, and blackberries for a refreshing yet light fruit salad.
Bento does not need to be complicate to be nourishing and delicious. Now that my outdoor training season resumes, I will be toting bento to practice once more. What do you like to pack in your bento?